The following payment methods can be used with Sezzle: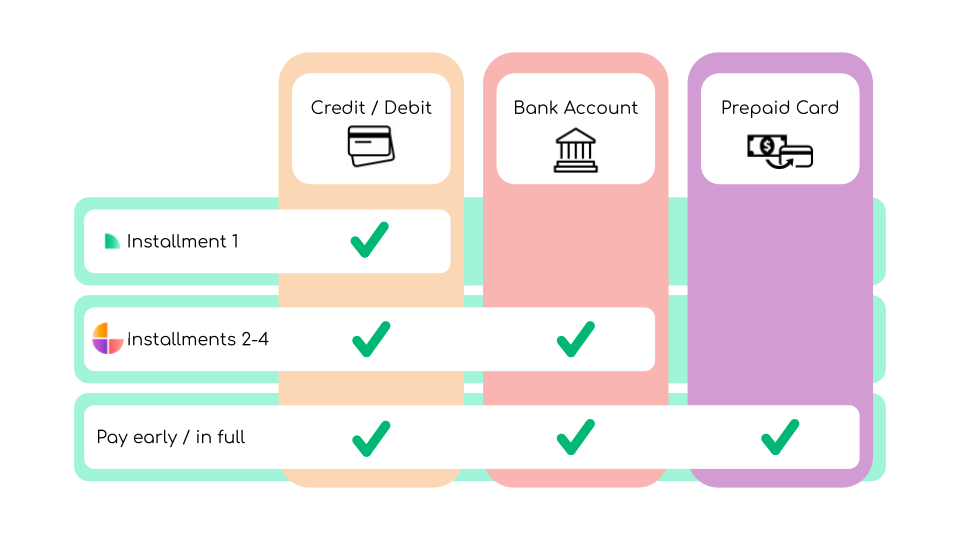 Please Note: Prepaid/benefit cards can only be used to pay off installments and not to place new orders
In all instances, adding a payment method does not automatically update outstanding installments, so you will need to take an additional step! If you'd like all unpaid installments to be charged to your new payment method, you will need to set it as the default method after you add it to your account. To update your default payment method, simply go to Payment Methods, select the payment method in question, and choose "Set as default."
Please make all changes to the default payment method at least 48 hours before the payment is scheduled. Changes made within 48 hours of the payment due date may not take effect.
If you need to add a new payment method because your previous one was stolen or compromised, you may also want to reschedule your payments while you wait for your new payment method to arrive.
How to add a payment method
To add a debit or credit card:

If you add a debit or credit card to your account and it appears in the "Prepaid card" section, that means the card has been designated as a prepaid card by your financial institution. If you have questions about why a card is labeled as a prepaid card, please reach out to your card issuer directly (typically by calling the phone number on the back of the card) to learn more about the card.
To add a bank account:

To add a prepaid card:

Since prepaid cards can't be used to place orders or for scheduling installments, you won't have the option to set them as your default payment method. However, you can use it to pay off existing installments. To learn about how to pay off installments, click here.
Default payment methods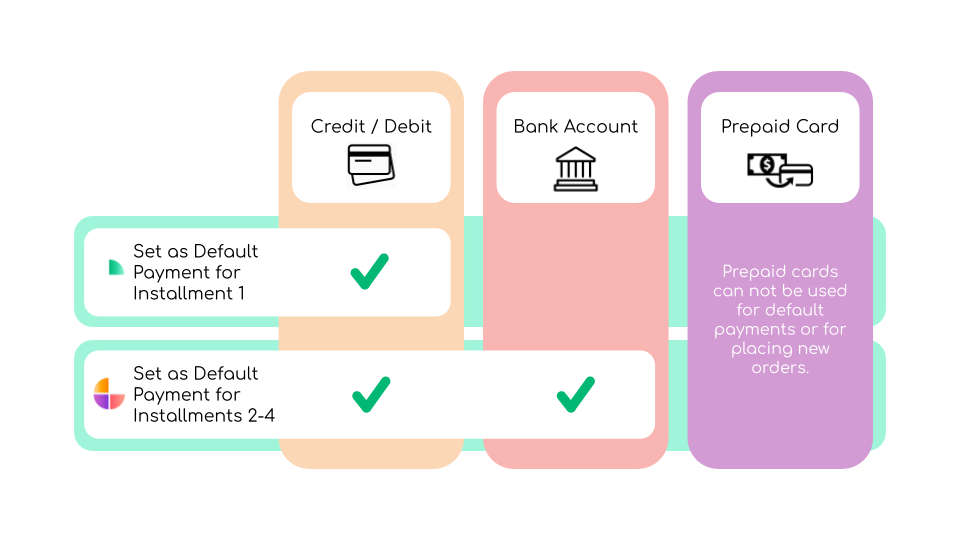 We require that you choose two default payment methods on your account—one for the first installment which is due when you place your order, and another for the remaining scheduled installments that are due over the next 6 weeks. If you are using a credit or debit card, these default payment methods can be the same. Unfortunately, we do not allow bank accounts to be used as default payment methods on first installments.
To set up your default payment methods, follow these steps:

Log into your Sezzle dashboard.
Navigate to the "Accounts" tab.
Click on "Payment Methods."
Select "Add card" if you haven't added one to your Sezzle account yet.
Once you've typed in your card details, check the box below that says "Make default payment method for first payments."
At this point, you can assign the same card to be the default payment method for "Scheduled payments," or you're welcome to add a bank account or another card. Just enter in the details for your payment method and check the box that says "Make default payment method for scheduled payments."