Sometimes life happens and you can't make your payments when they were originally scheduled. That's ok! It's exactly why we offer three reschedules per order—we want to empower you to make smart financial decisions. See below for more about how Sezzle rescheduling works.
Best news first: your first reschedule on any order is totally free. This means you can push your installment out by up to two weeks at no additional cost. It's important to note that you can also choose to reschedule the rest of your payments at the same time by selecting the box in the screenshot below.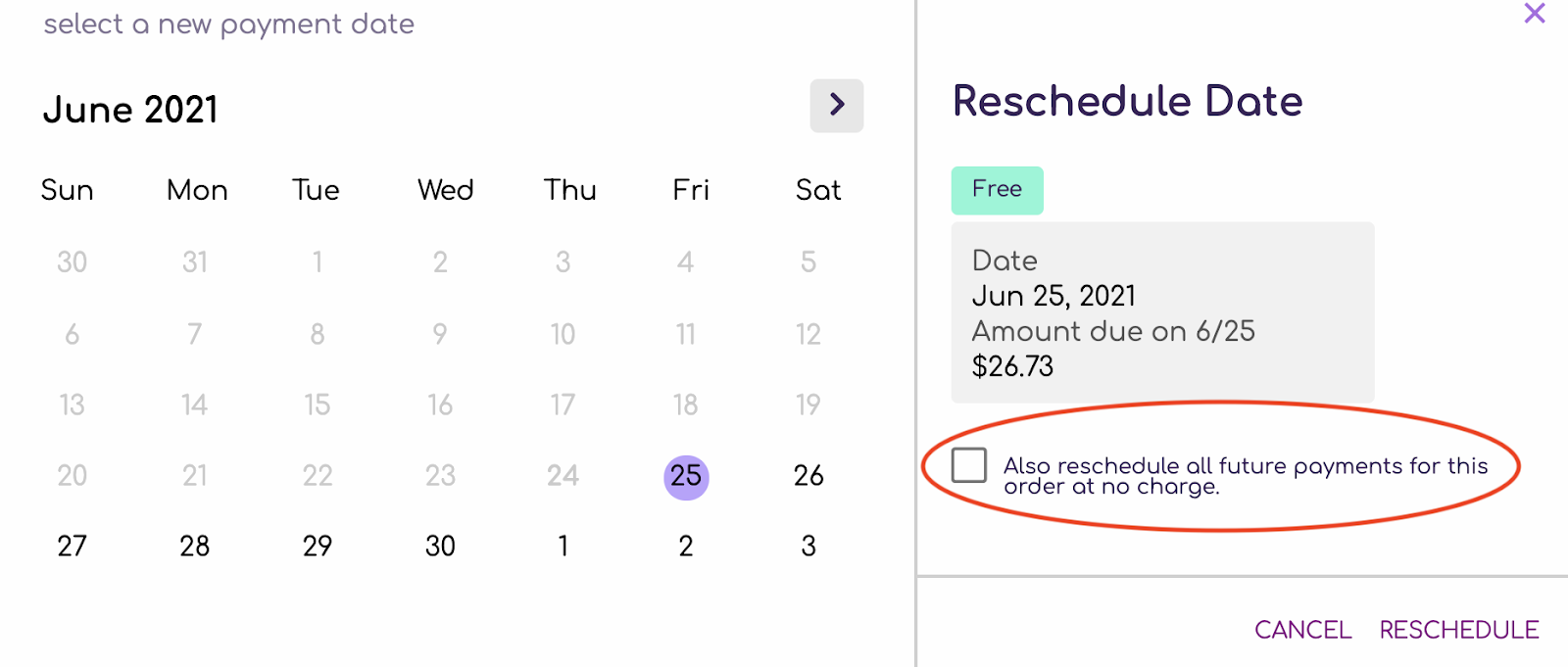 While payments can only be moved out two weeks at a time from their originally scheduled dates, you have two additional reschedules that can be used to move payments again, if needed. The second and third reschedules will just require your approval for a fee* that is charged with the installment.
However, you can always reschedule a payment to an earlier date for no charge. To learn more about paying off installments early, please read more here.
To reschedule an installment, simply follow the steps below:
Log into your

Sezzle dashboard

Navigate to your "Orders" tab and click on "View Order" next to the order you want to reschedule

Select "Reschedule" next to your payment

Choose a new date on the calendar, check the box if you want to reschedule the rest of your payments, and then confirm!
Tips
Once you hit confirm, the reschedule is finalized, so make sure to review thoroughly!

If you don't select the option to automatically reschedule the remaining installments, you will need to manually reschedule them and you may be charged the rescheduling fee.

We recommend rescheduling payments at least 48 hours before the due date to ensure the reschedule is successful. If you reschedule a payment within 48 hours of the day that it was originally due, we cannot guarantee the reschedule will be successful, and the installment may still be charged as originally scheduled.

Once a rescheduling fee has been added, moving the date to an earlier date will not remove the fee.
*Fees may not be applicable to shoppers in certain regions—please review our user agreement for more information. Where imposed, fee amounts are determined by individual state regulations and will reflect accordingly on your Sezzle account upon reschedule or failed payment.